Offer for 7 nights
10% discount for a minimum stay of 7 nights
Continue >>
Seven nights plus Bike
10% discount for a minimum stay of 7 nights - 40% discount for bike hire
Continue >>
Calendar of events
EXCURSIONS

Isola del Garda
Plenty of proposals for your excursions, but we remind you of the island of Garda, magic and mystery.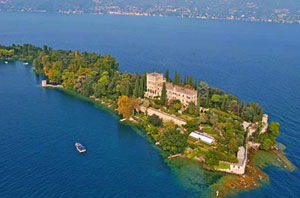 Sitting on the Brescian banks of the lake, close to San Felice del Benaco, for centuries it has been the highest expression of mysticism. Here, San Francesco once founded a small community. Today it's extraordinary fascine is all in the neo Gothic Venetian style Villa, projected by architect Luigi Rovelli in the early '900; an impressive harmonious construction, rich of architectonic particulars. At its feet, Italian terraces and gardens take over till the lake. All around, the vegetation is luxuriant and intact, rich of local plants, exotic and rare flowers. A game of harmonious pines, cypresses, acacias, lemons and magnolias. The singing of the birds seems the glorious voice of the soul of those in the past centuries lived, cared for and loved this island. While visiting the island, the feeling is not that of a tourist but of an invited guest.

From April to October the Island is open to guided tours, planned with passion by the Conti Cavvaza, actual owners. The departure is from the port of Bardolino every Wednesday at 9,45 am.