Offer for 7 nights
10% discount for a minimum stay of 7 nights
Continue >>
Seven nights plus Bike
10% discount for a minimum stay of 7 nights - 40% discount for bike hire
Continue >>
History and legency of the Kotel alla Riviera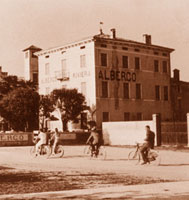 The Hotel has a rich history as well as a few legends. "Villa Patrizia" that holds the main part of the Hotel is what we first here about in the antique lithography of the XVIII century. When Wolfgang Goethe first landed in Bardolino in 1786, the villa did not yet exist and this might just be the reason why he then decided to proceed without delay towards Verona on his mule.

Originally, Nobile Veronese Filippo Terzi chose Bardolino for his summer vacations. Then deciding to construct a villa by the medieval walls in contrada Diavoli on the river of the lake, giving place to embarking, Logggia Belvedere, vegetable garden and stables for the horses. Time passes and in the 1938 his wife Contessa Giuseppina Guerrieri not very glad about what her husband was up to during his pass time in Bardolino, with rumours of a secret lover, decides to sell the villa to grannies Cristina and Francesco Sala. Then in 1939, after already having managed the Hotel Bardolino in the church square for 13 years, they open The Hotel Alla Riviera: which will be the first hotel in Bardolino to have ever had heating, running hot and cold water in all rooms. In those times granny Cristina took care of the kitchen and the hotel keeping; while Francesco with his Fiat ballila took care of the taxi service, helped out in the kitchen and as a good mountain alpine he dedicated himself to wine tasting of the well known Bardolino red wine which then was plenty.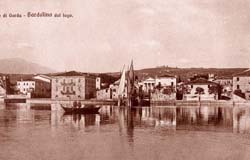 Nonna Cristina's cooking became ever more renowned, appreciated and celebrated amongst fellow town members. Guests then started flowing in from all parts, some with the vapour train, others with the first cars. Unfortunately the second world war heavily fell on this happy times and German Military Command took possess of the Hotel. Luckily later on the American army setup a village for its officials, choosing grannies Sala's inviting hotel and kitchen for their particular hospitality. In the 50's came the tourists; German, Danish and the Dutch and with them the eminent names, such as Mike Buongiorno, Enzo Tortora, lyric singers and the well known football teams like Mantova, Verona, the Italian National Team of Fabbri with Rivera, Mazzola, and many other names of the football world. Years passed and thanks to the enterprising effort of grannies Sala, and the remarkable help of their three daughters, the hotel expanded. Occupying the entire block. Today, it is the grandchildren Giampaolo and Francesco who have refurbished this beautifully restored structure yet maintaining the traditional style that proudly keep up the spirit of the Sala family and humbly welcome you trying their most to make you feel at home .